When it comes to online dating, you may wonder if there are certain rules to follow. Could your lack of knowledge about these rules be the cause of detriment to your relationships? No worries! We have the do's and don'ts of digital dating right here at your fingertips. There's no need for you to be in a state of constant questioning about what you are doing. Now, you will know for sure. 
What to Do
Use Good Photos
The first thing you should do when dating digitally is use good pictures. What is considered a good photo? A photo that shows the entire upper half of your body is great. You can also use a headshot. The most important thing is that the picture has good lighting and that it is clear. Remember, this is the first time anyone will get a chance to see you. Since they cannot see you in person, this photo has to be the best representation of yourself. A blurry, dark picture is the worst way to display yourself online. Also, be sure to smile! It will do wonders at displaying your inviting side from the first glance. 
Update Profile Regularly
The second thing you need to do is update your profile regularly. You can do this by changing out your photos, maybe adding a new hobby or just freshening up your bio. These little tweaks and changes can do wonders for driving more people to your profile. That's ultimately what you want, right?? A stagnant profile might make potential interests think you're not fully invested in the digital dating experience. Don't send the wrong message. 
Get Online Often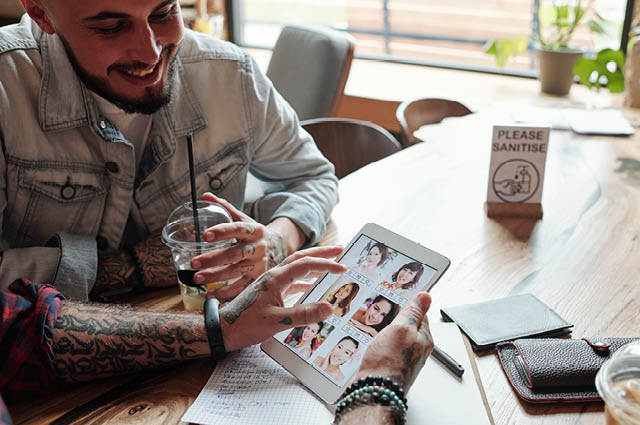 Lastly, get online often to boost your digital dating game! The more people see that you are online, the more likely they are to send you a message and connect with you. If you are never online, they may never want to reach out, for fear that you wouldn't be good at getting back with them. Communication becomes increasingly important when you are digital dating.
What Not To Do
Don't Be Afraid to Ask Questions
On one hand, you know exactly what to do now when it comes to digital dating. On the other hand, you don't want to be afraid to ask questions. Since you won't be able to see them in person and get a feel for their physical mannerisms, it will be crucial for you to ask questions. As many as you need to ask to feel like you are getting to know them. 
Don't Be Cliche
Please don't let the first thing out of your mouth be "you are beautiful" or "you're a hottie." We beg you. These are two of the most cliche, commonplace phrases you can use when you are dating, especially online. Using these phrases will not set you apart from the rest of the digital dating pool. Opening with "how are you" is also a trite way to begin a conversation. These are boring statements/questions and though boring is safe, you need to mix it up! Be unique about how you respond and what you say. If you want to ask how they are doing, try to think of a more creative way to say it. We know you can do it!
Don't Lie on Your Profile
Lastly on the list of what not to do dating online is to lie on your profile. Using a picture of yourself from five years ago when you were 100 pounds lighter is not being honest about who you are today. Own everything about yourself in your current state. There's no need to lie! If you end up backing yourself into a lying corner, you will have to keep compiling on those lies over time. And when the day comes to finally meet your interest in person, it will not go well for you. The best way to attract the person you want is to be honest about yourself. If you don't love yourself first, how can you teach someone else to love you?
To conclude, make sure you upload good pictures of yourself and get online often. Never be cliche or lie about who you are. Honesty is the best policy, even if it hurts. So get out there and do some damage in the digital dating world!